The Movers and Shakers are Moving and Shaking
Fourth-Quarter comebacks are always intense, though not everyone likes them due to the win-lose nature of a comeback. Which area in Naples do you think did the best in the fourth quarter of 2022? Despite national news of a forecasted housing market meltdown, the Median Sales Price for ZIP Code 34102 increased by leaps and bounds between October, November & December. I understand there is a forecasted downturn for sometime in 2023, but would financially wise folks be spending money on high end real estate right now if they thought they were going to get smacked with extensive losses?
If you read my market updates every month, you might remember the increases in Median Sales Price in October & November, we now have a third consecutive month of increase that brings the current Median Sales Price in 34102 to a whopping $2,791,250! That is the highest number in the last five years, aside from the random jump in January 2019 when the ZIP spiked to $3,225,000. Imagine forming an LLC with 10 of your most trusted friends or family members and buying a home in Port Royal that will rent for $40K a month. Or maybe buying commercial building.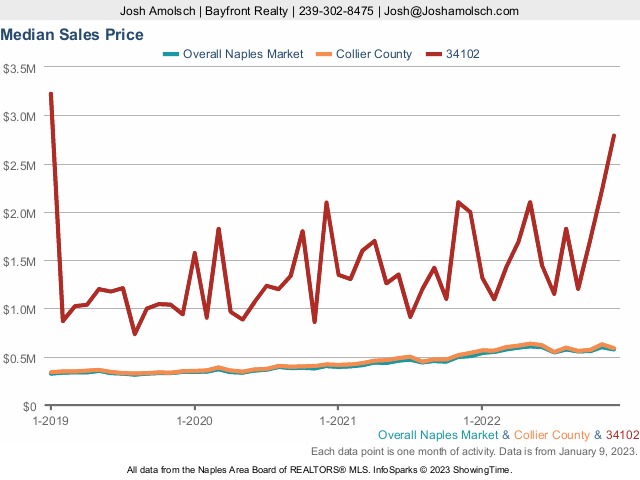 Looking back over the last three years, the fourth quarter for 34102 was up and down, not up, up, up like 2022. Collier County overall did pretty good as well, increasing 8.8% from December 2021 to $587,500 in December 2022. I don't think these numbers are adjusted for inflation. Talk to an economist about that. Lol.
While New Listings, Overall Inventory & Pending Sales continue to shrink in most areas in Naples, Pending Sales actually increased in ZIP 34102 in December. This is an interesting view into what may be the future of Naples as more and more luxury buyers invest in Naples, FL. West of 41 Club members don't typically buy a big expensive home so they can sleep in them until noon. These folks are movers and shakers and often bring projects with them. Companies & ideas for real estate developments typically follow this group. It's in their DNA to be productive and fruitful. Watch for more changes in the coming years. I am betting they will be for the better.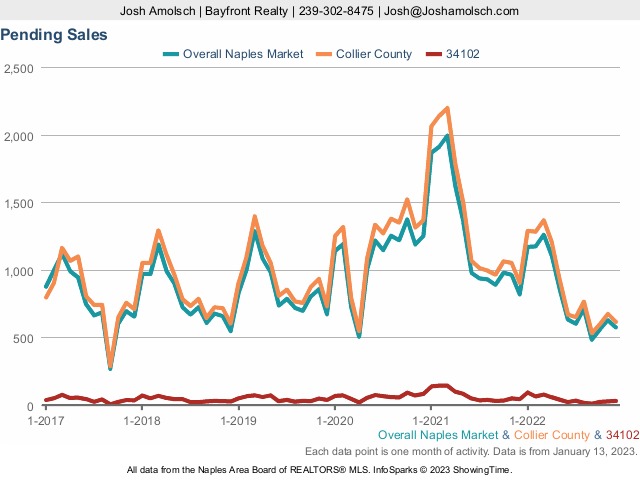 When I think about what personality trait is most important to me, reliability rises to the top. With trust being a foundation of reliability, we can easily see that a consistent effort to humbly serve each other should be the bedrock of society. Finding a way to serve one another is something to strive for. This is why I write these blogs.
For a more detailed analysis on a certain area around Naples or to receive a Comparative Market Analysis on your home, give me a call! I would love to help you with your real estate needs.