Rising Demand is Meeting Rising Supply.
The latest sales statistics came out today. We are always one month behind on getting sales figures, for the obvious reason that we need to finish out the month before those sales figures can accurately be published. So while it may seem that I am always a month late, I'm not.
So here we are, a month into 2023 with a New Year's themed blog. Hurricane Ian is becoming but a distant memory for many people, inflation is on the decline and mortgage rates are holding steady in the mid 6's, albeit down from late October 2022 highs. There are many perspectives for the beginning of a new year. Most tend to give optimism and hope. And why shouldn't they? Hope and optimism should live in our hearts everyday. Here are a couple of my favorite quotes for starting new
"You can't go back and change the beginning, but you can start where you are and change the ending."
― C. S. Lewis
"Be at war with your vices, at peace with your neighbors, and let every new year find you a better man."
― Benjamin Franklin
For I know the plans I have for you," declares the LORD, "plans to prosper you and not to harm you, plans to give you hope and a future.
― Jeremiah 29:11
While Collier County & the Overall Naples Market have hovered right around the same Median Sales Price from March 2022 through December 2022, the Port Royal & Old Naples area (ZIP 34102) shot up drastically in the last quarter of 2022. But that trend changed in January 2023 when the Median Sales Price for 34102 dropped 24.5% from December but increased 6% in the Overall Naples Market. Both are still way up over January 2022, 60% & 13%, respectively.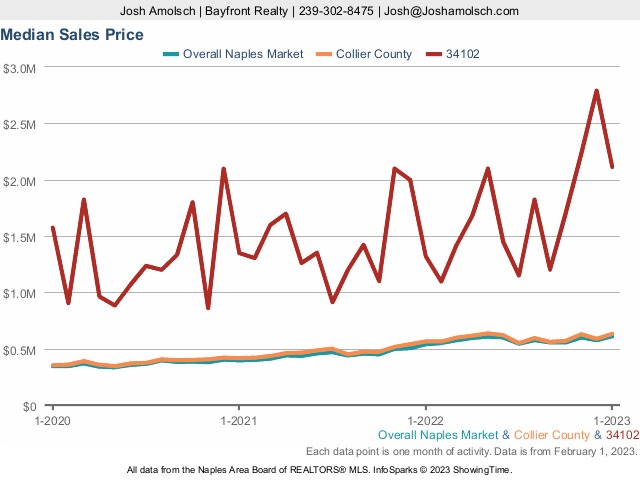 New Listings are also up for both Overall Naples Market & 34102, but down overall from a year ago. With Days on Market growing, it makes sense that the overall inventory is continuing to grow causing price growth to slow to a more sustainable rate. But understand this; Demand is meeting the growing supply, even with a higher mortgage rate era we are in. It is interesting to flip between the price ranges to see which groups are declining and increasing. While there appears to be healthy movement in several areas, the biggest trend right now is condos priced between $1,200,000 – $3,394,999. Again, I am more than happy to provide you with specific reports and CMA's for any property you are working on buying or selling.

Months of Supply are definitely increasing as the Days on Market stack up. A quick look at the Median Sales Price vs Original List Price (before price reductions) shows January 2023 was at 96.22% while January 2022 was at 100%. Moral of the story is that, in general, seller's are still riding high with the thinking that they can ask for the moon and get it. Buyer's will still buy, but the price has to be reasonable and provable.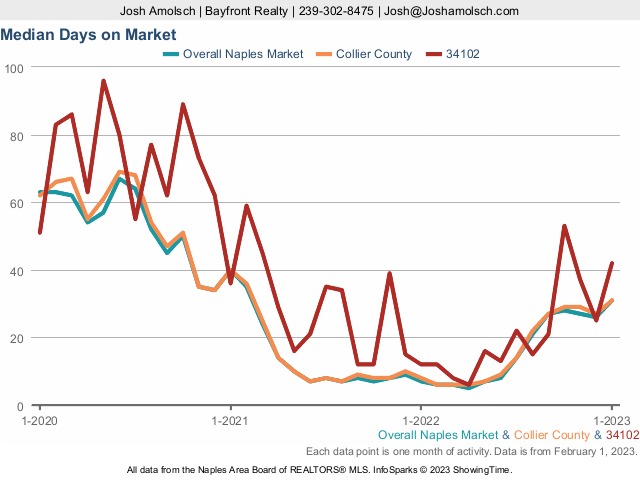 Looking at property listings through your phone only gives you part of the picture. You can't see smells. Buyers, you gotta get out with a reliable (me) Realtor to tour listings. Sellers, invest in someone who is compulsively truthful with a servants heart (again, me).
I actually had a wonderful client and friend gently interrupt a conversation I was having here in Bayfront recently out in front of the fountain with another client to tell that client how special and different I am than other Realtors. Boy was that ever the best endorsement I have ever received! I sent him a card and will be buying him and his wonderful wife lunch soon.
You need more reliable people in your life, so call me.