There Are Mixed Signals All Over The Place.
I realize how boring it is for a lot of people to read about real estate market statistics, and we all want to know just how the Naples real estate market holding up. So here is the summary for the Naples July 2022 Housing Market Activity for the folks who want the cliff notes.
• Median Closed Price – Down
• New Listings – Down
• Inventory – Down
• Days on Market – Up
• Pending Sales – Up
Similar to my last two market updates for June and May, I, along with many others, question if these changes are typical "off-season" numbers or the beginning effects of rapidly rising interest rates, falling stock market, rising gas prices etc. Though, the Closed Median Price fell more drastically in July than June and Inventory did a 180 and fell after a consistent rise from December to June.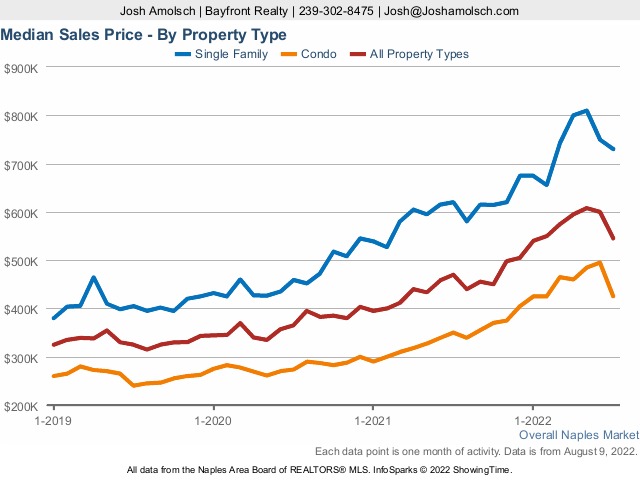 The Naples Daily News had an informative article come out a couple of days ago highlighting a talk about the state of the local economy where economist Amir Ferreira Neto stated of the U.S. Economy "it's a mess" and "There is (sic) mixed signals all over the place… And Southwest Florida is no different."
Some indicators that we are doing well in SWFL are detailed in the article and quoted below:
"One of those positive indicators? Strong sales tax collections, a sign consumers are not slowing down their spending, at least in any big way.
In the five-county region that includes Lee and Collier, seasonally-adjusted taxable sales totaled more than $3.48 billion in May. They were up 7% over the year, but down 3% from April, according to the Economic Research Institute's latest report.
Other good signs? Locally, businesses are still hiring, real estate is still selling and GDP — a measurement of the goods and services produced — is still growing, Neto said.
"Overall, I don't think we're in a recession yet," he said. "Are we going to be in one? I don't know."
"In the third quarter survey in Lee County, for example, more business owners and executives said they felt both economic and industry conditions are — and would be — worse in the year ahead.
In Collier County, a similar survey showed the economic expectations of business owners for the next 12 months at their lowest point ever — since the study began in 2020.
"They are not feeling very hopeful," Neto said."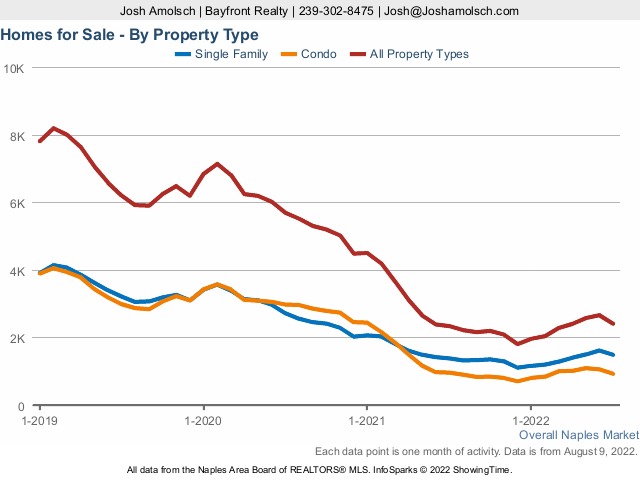 Business doesn't really feel slow for me personally. I am still showing property and working my files per the norm. New listings are coming up and clients are asking to see properties. We also get a lot of businessmen who visit our office to drop off rent checks for a big industrial compound we just sold and now manage. All of them are busier than ever. When trying to figure out how the economy is doing, it is wise to take the pulse of as many industries as possible, which I do. For now, all seems to be going well, albeit the Median 9.2% price decrease in July.
Then today, I see an article from the National Association of Realtors showing the Top 10 U.S. metro areas for prices gains in 1Q 2022. Of the Top 10 metros, 7 are located in Florida with the #3 spot going to our beloved Naples. I think we are going to be just fine. Keep working hard!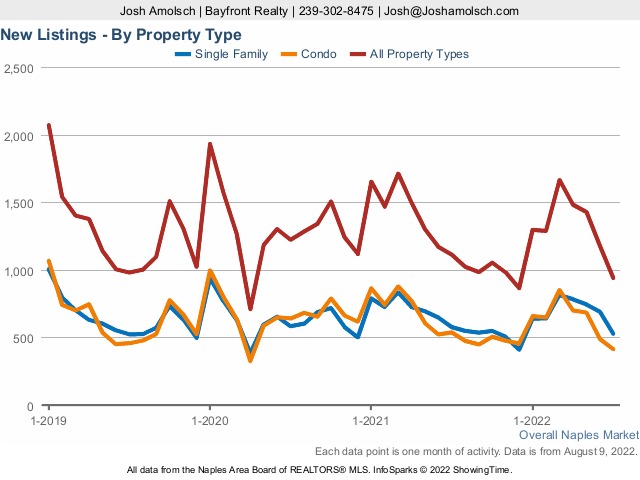 New Listings are down, so why not list your property with me while your competition has a day at the beach?