It's smooth sailing depending on where you are standing on deck.
As always, the statistical analyses of a month in the books has everyone prophesying what will become us. One article pushes back on another, sales people stare themselves down in the mirror as they sike themselves up to deliver what doesn't seem deliverable. I know, I want the party to keep rolling too, and maybe it will. But interest rates doubling in 8 months is not quite what people expected this year, and the effects can be felt all around the country.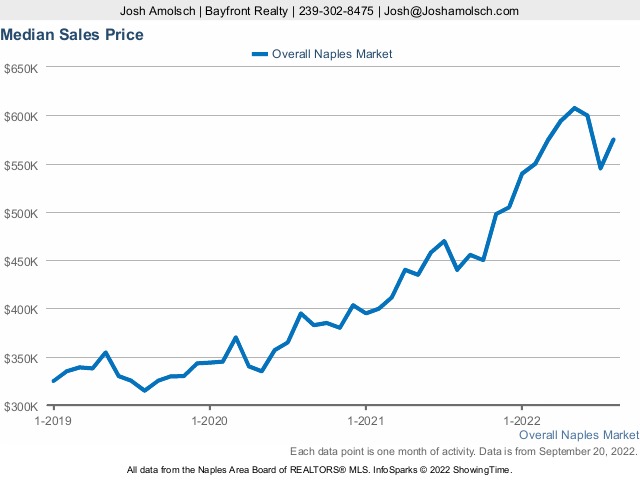 Here in Naples, the Median Closed Price for Single Family Homes was flat in August vs July while the Median Closed Price for Condos went up 6% during the same time. Months of Supply and Homes for Sale were both down in August reversing a year-to-date trend that looks to be coming from the falling New Listing numbers since March. But that's normal for Naples. I wouldn't worry too much about our market if you are a homeowner already as the almighty Redfin shows Naples coming in at #2 in the Top 10 Metros in the U.S. with the Fastest Growing Sales Price. Lehigh Acres is #1! Is anyone surprised?
As I quoted in last month's Naples Market Update, "It's a Mess". You will get a different story depending on which publication you click on. Fannie Mae predicts 4.5% rates in 2023 but a higher up at Guild Mortgage told me that he predicts 9% by March. The Fed raised the Federal Fund Rate by .75 basis points today which the mortgage rate market reacted by dropping .11% lower! One could say that it is anyone's guess as to what will happen in the housing market over the next few months let alone the next couple of years. Just make sure you are planning accordingly with your financial planner, tax person and Realtor who you trust. Hey… maybe I can be that Realtor you trust!!
Let's talk Naples Real Estate. Coffee is on me.