Just how crazy is the Naples housing market?
The numbers are sobering. Naples housing inventory in February 2022 was down 64% from February 2021 in 34102 and down 77% in the Overall Naples Market and Collier County. Couple this with an increase in Median Closed Price of 35% & 38% in Collier County and Overall Naples Market, respectively, and you can see the problem, especially with mortgage interest rates rising a half percent in the last 2 months. 34102's median price actually went down 16% to $1,096,303, but that ZIP code jumps quite a bit from month to month due to the high price of homes in Port Royal, Aqualane Shores & Royal Harbor.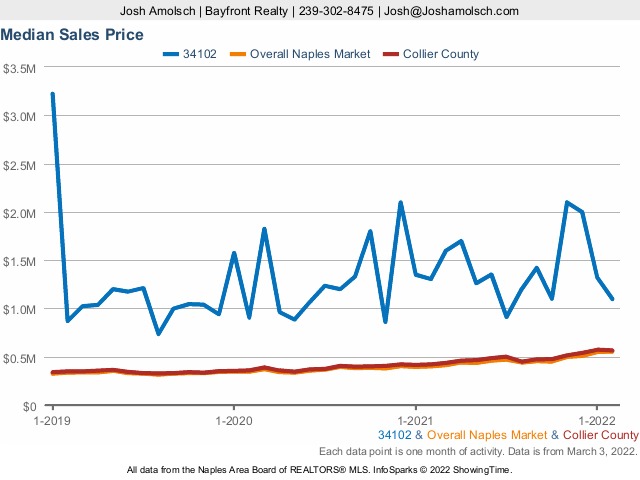 While the Median Home Price is trending up over the last 3 years, the amount of New Listings per month have remained relatively consistent. Buyers, buyers and more buyers have been driving this market for years. That shouldn't be a surprise to anyone. Rates have been under 3.5% for almost 2 years and by paying points, you could get well under 3%. Days on market even took a nose dive in January 2021 and are now at 6 days in Collier County and the Naples Overall Market. 34102 is a tad higher at 13. Even the cash buyers are out in force. Will the war in Ukraine make things worse?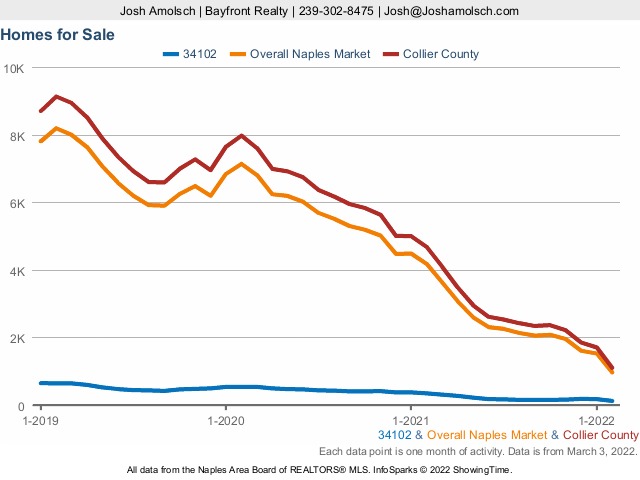 Since the Russian invasion of Ukraine, mortgage rates have slumped a little but still remain over 4% for a 30 yr conventional as of the writing of this blog. The Fed is still planning on several rate hikes in 2022 with the first expected at the March 15-16 meeting. While this hike doesn't directly correlate to mortgage rate hikes, it often has an effect.
If you have a real estate need, give me a call or shoot me an email!