For one year now, sellers in Collier County and the Overall Naples Housing Market have been selling their homes for 100% of their asking price. During that same time period, median home prices grew about 30%. There is talk all over the country about a recession and softening demand, but will it affect Naples much? I guess that depends on how severe the highest inflation in 40 years, highest gas prices in history and food shortages will affect us all. Can't wait. Let's see what the June 2022 Naples Update: Housing Market has to show us.
Many long time businessmen in Naples will say that Naples is the last one in a recession and the first one out. I believe and hope for that. In the chart below. Months of Inventory for the Naples June 2022 Housing Market Update bumped up like it normally does in December 2021, but this time the increase in inventory went until May before dipping a little in June. For the past 5 years, Months of Inventory started to fall two months earlier in March. But overall, the median price for living space is still on the upward trajectory, even though prices dropped a little in Collier County in June 2022. Is it seasonal or is it evidence of a Naples housing market correction?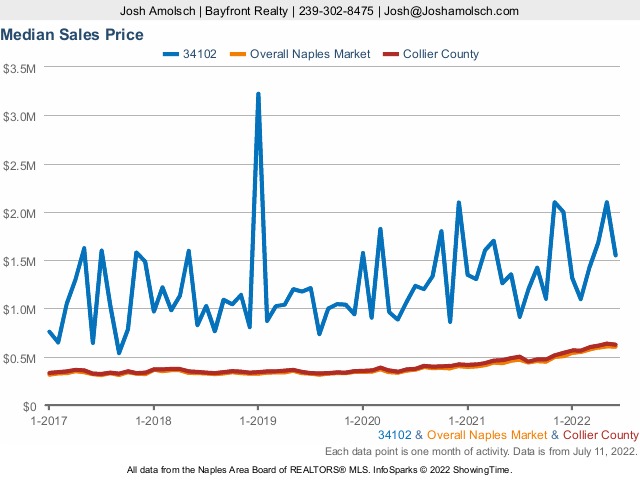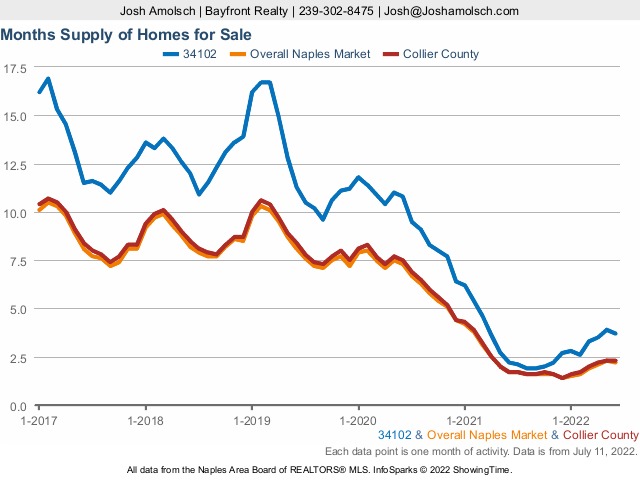 Inventory is dropping because New Listings in Naples are dropping. Look at the EKG-like chart below. The June 2022 Naples Update: Housing Market seems to be consistent with the statistics from the last several years. Pending sales are down in June 2022 and Days on Market are edging up. The Naples June 2022 Housing Market Update isn't alarming at all. We will have to wait and see what happens over the next few months. The Fed is likely going to continue to raise interest rates with meetings scheduled for July 26-27, September 20-21, November 1-2 & December 13-14, especially with the latest report of 9.1% inflation in June 2022. Does anyone see mortgage rates going into the double digits? I am certainly getting more calls from sellers who are thinking about selling. Are you thinking about it as well?
We all know that we have an affordable housing crisis in Naples, just like we do in most areas of the country. I have read of efforts from local developers to be part of the solution with projects to build 160 units off Collier Blvd & US 41 as well as other efforts to create median priced homes for people all over Collier County. Private property rights are often overlooked, yet extremally important to the health and security of a nation, so I am more of an advocate for owning than renting. Owning your own property does far more for society than one might think. It would be wise to check out this article on the importance of property rights and pass it around. Communists don't want private property rights. Aren't you glad you live in Florida!
To buy or sell real estate in Naples, Florida, give me a call.
Premiere Plus Realty, Co. | Realtor® | #SL3522310
1100 5th Ave S #101B, Naples, FL 34102