March's Housing Harvest was Record-Breaking.
I recently took a drive up to northeastern Florida with my wife, Viktoriya, for a little extended spring weekend getaway in our cozy little pull-behind camper. While the route we took through central Florida was nice, it is so comforting to be back home in beautiful Naples! Those big open fields of green as far as the eye could see made me think about how Naples probably looked like many years ago. I didn't grow up here, but I certainly treat our town and beaches with the love & respect they deserve. As my charming vacation clients from New England say; "We will leave it better than we receive it", so too I will leave Naples, one day, better than it was given to me. In addition to leading the residential side of Bayfront Realty with compassion, creativity, honesty and integrity, I never leave the beach without picking up at least two handfuls of trash. There is still probably some garbage I forgot to throw out in the storage pockets of our Costco-bought Tommy Bahama chairs in the back of our "beacher" car.
Then there is joy in the fact that the Total Sales in March 2023 for the Overall Naples Market broke above 1,000 for the first time since May 2022 when Total Sales were 1,267, which was the second highest month for sales since the absolute peak over the last 3 years of 1,926 in April of 2021. You can see below that from May 2022, sales started to slump all the way until Jan 2023. Being that all these statistics are related to one another, falling New Listings since May 2022, sluggish Pending Activity since May 2022 and swelling Days on Market since May 2022 all tell the same story, inflation and rising interest rates has had a lot of housing players on treading carefully. Though Pending Sales have been rising since Jan 2023 along with stabilizing Days on Market the last few months.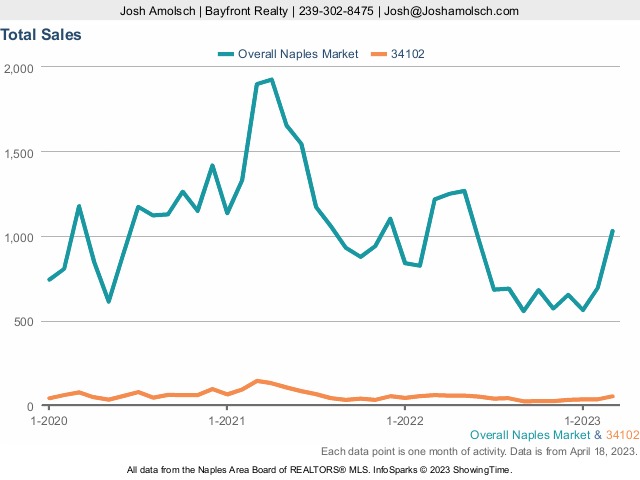 The Median Sales Price for the Overall Naples Markets peaked at the highest level ever in March 2023 at $613,500 and has been dancing around the $575K-ishmark for about a year. But look at ZIP code 34102. One month the Median Sales Price is at $1M, the next, $2M, then back to $1.1M just to jump to almost $3M a couple months later. This is normal due to the smaller footprint, compared to the Overall Naples Market, of high value homes mixed with more moderate priced condos at all different stages of quality and condition. Hurricane Ian really shook things up though when a bunch of flooded out homes sold for land value only due, in large part, to the FEMA 50% Rule. But as of March 2023, we are seeing the Median Sales Price start to normalize.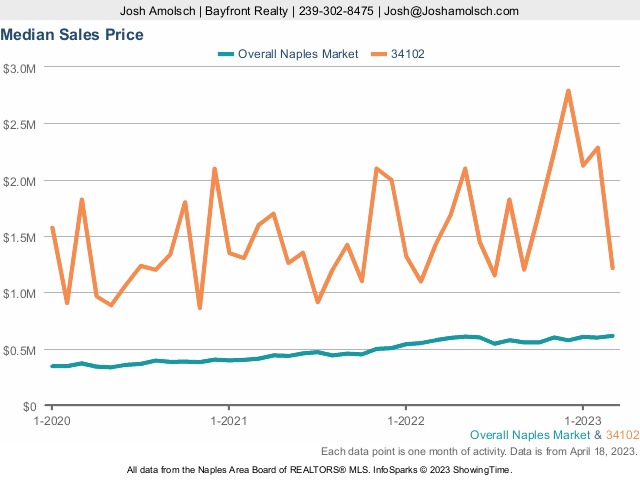 Cost of Capital | Cost of Materials | Cost of Labor
Though Homebuilder Sentiment has risen in April 2023 for the 4th consecutive month, cost of capital, cost of materials, cost of labor are the strongest headwinds for homebuilders per Jerry Howard, CEO of the National Association of Homebuilders. Mortgage rates continue to hover around 7% as well making buying a bit more of a challenge. With low housing inventory being a reality since the 2008 crash when construction of new homes fell, recovery has been difficult and many economists don't see it getting better in 2023.
The title of this blog is "Naples March '23 Housing Update | Spring Fruits". As you may know, some of the best deals never show up on the open market. With that said, the statistics given to you today don't include all of the off-market transactions completed in our area. Now that doesn't necessarily mean that the numbers presented would be lower if off-market data was included because off-market transactions typically sold at higher levels than the Median Sales Price. Some agents do enter closed off-market transactions into the MLS as Sale Data Entry, if they have permission from the transaction parties. People have their reasons for selling off market, but by reducing the potential buyer pool, sellers potentially reduce the selling price for a service or product.
Any good Realtor will learn about off-market opportunities and pass the word around like a first century Apostle. I currently know of four spring fruits, but you or your friend must contact me for more details as they are off-market for a reason.
1. SFR Tear down in Moorings. 1/2 acre on the water with over 150ft of water frontage – $7M
2. 4th floor west facing condo in Naples Square. Top of the line everything with beautiful sunset views – $3.3M
3. 2nd floor Naples Bay facing 3bd in Bayfront with view of marina. Recently remodelled – $1.8M
4. 2nd floor Naples Bay facing 3bd in Bayfront with view of marina. Big unit with massive lanai – $2.3M
The three below are my current listings and are viewable on my website as well as Zillow or any other home sales service.
1. 1660 Sandpiper St | OPEN HOUSE 4.23 2-5pm – One of the lowest priced homes in one of the most coveted neighborhoods in all of Naples – Royal Harbor – $2.65M
2. 2370 Hidden Lake Ct #8310 | OPEN HOUSE 4.23 1-4pm – A charming 2bd condo in lush Magnolia Falls just 12 minutes from the beach – $423,900
3. 712 Pine Vale Ct – 4bd + Den 3ba with pool & 3-car garage – New Build forcasted for late 2023 delivery – $1.2M
Give me a ring or stop by my office in beautiful Bayfront in Downtown Naples!