Ob-la-di, ob-la-da, life goes on, brah!
The Median Sales Price spiked upwards not only for Collier County & the Overall Naples Market, but also for ZIP code 34102 at a clip of about 22.5% from November 2021. ZIP 34102 was a bit lower at 6% over November 2021, but at 30% above October 2022. Buyer's are still buying!! The Bayfront community didn't have any sales in October or November 2022, so while we didn't see sales figures for Bayfront in October or November 2022, the trajectory from August & September has been on the up-tick, increasing 9.9% from August to the end of September. The center of Naples is shifting, and soon you won't be able to find anything in Bayfront for under $1,000,000. The Tides at Bayfront are almost halfway sold out and any owner with an unimpeded view of Naples Bay will surely get a premium for their condo when they sell. Mortgage rates have been falling steadily since October and the word on the street is that, since the banks hedge against Fed rate increases, we may have seen the end of mortgage rate spikes for a while.
New Listings in the Overall Naples Market slowed slightly in November compared to October, but increased on the county level. The ZIP leading this increase was 34120 (Golden Gate Estates). Has anyone been out that way recently? My In-Law's live out on 47th Ave NE so I make the drive from downtown Naples down Immokalee often. The 50+ acre development on the northwest side of the curve opposite of the Publix at Randall Blvd is a big project set to include a 400-unit apartment complex with several commercial outbuildings for retail and restaurants. Planned nearby developments could add 14,000 dwelling units & 24,000 new cars per day on Immokalee Road at Randall Curve. This ain't the Naples you grew up in, and I know so many of you have mixed feelings about the massive growth this area has been experiencing.
Median Days on Market for The Overall Naples Market fell in November for the first time since February 2022. The time to sell a property increased each month this year but changed the most for ZIP 34102 in November, falling 30% from 53 days down to 37 days. If you have your home priced right, it will sell quickly. Folks often want a massive deal on a home they are purchasing but expect a record breaking price on the sale of their current home. We can't have it both ways. I have found that the happiest buyers and sellers are the ones who have their perspectives aligned correctly. A grounded Realtor is the best way to get through an emotional experience such as selling a home and buying a new one.
It's tough, and I understand. Trust me. I have been through it countless times.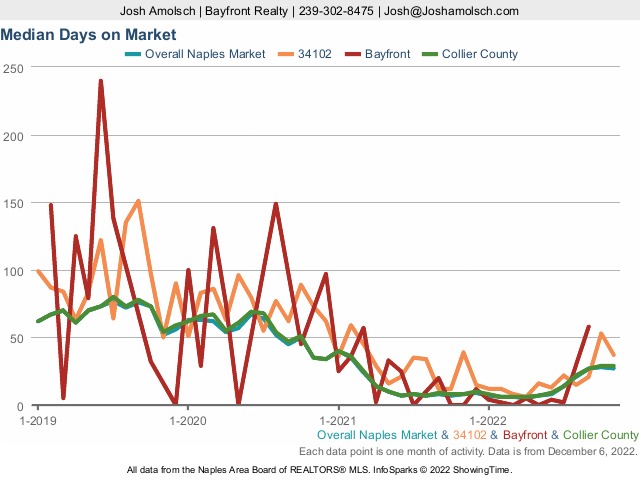 The world is pretty crazy right now and we all want reliable people in our inner circle. I am that reliable Realtor you can count on to be honest with you.
To buy or sell Naples real estate, give me a ring.