Dive deeper into the latest Naples Housing Statistics.
I have been writing these monthly housing market updates for a few years now. With every blog, new statistics either alter or strengthen our perspective on where our local market is headed. I experiment with how I present the information to see how my readers react and to learn the depth and length I should go to before I lose their attention. Discussing real estate statistics isn't really the most entertaining subject, so let's try to have some fun with it.
Hurricane Ian, continued rising rates, stubborn inflation and midterm elections have a lot of people in a staring contest and on edge, so as a Realtor in Naples with a fairly decent reader base, I thought it would be responsible of me to go a little deeper into the Naples real estate sales statistics. It is worth mentioning that many of these closed sales were already in contract prior to Hurricane Ian striking the SWFL coast. November and December Numbers will paint a clearer picture of the affect the storm had on our region.
First, a breakdown of the Median Sales Price as reported by the Naples Area Board of Realtors.
Median Sales Price By ZIP – October '22 vs September '22
Coastal
34102
Homes – Down by 12%
Condos – Up 27%
All Property Types – Up 45%
34103
Homes – Up 681% (You read that correctly)
Condo – Down 9.4%
All Property Types – Up 285%
34108
Homes – Up 117%
Condo – Down 27.9%
All Property Types – Down by 5.6%
34110
Homes – Up 47.7%
Condo – Up 10.5%
All Property Types – Down 14.7%
Golden Gate Estates
34120
Homes – Up 6.3%
Condos – Down 1.2%
All Property Types – Up 3%
34117
Homes – Up 20.5%
Condos – n/a
All Property Types – Up 20.5%
A quick look at the "Up to Down Ratio" shows about 2:1 in favor of the "Up", which fueled the Overall Naples Area Single Family Home Median Sales Price in October to shoot up after falling for four straight months. We are now a little higher than we were in June, but not quite to the peak we saw in May when the Single Family Home Median Sales Price was $805,250. I should note that the big spike in Median Sales Price in October was likely due to the big sales numbers in 34103.
Bayfront Realty hosts many meetings every week with international investors as well as local investors and tradesmen and I hear frequently from those folks that now is a great time to buy. Even vacant land increased 4% in October '22 over September '22. So the developers are not raking in the deals much on the buy either. Yes, bidding wars are less frequent, but if you have a highly desirable home, count on it selling at the top end of the range.
Let's look at some more stats.
Median Sales Price By ZIP – October '22 vs October '21
Coastal
34102 – Up 58.5%
34103 – Up 321%
34108 – Up 42.2%
34110 – Down 4.9%
Golden Gate Estates
34120 – Up 20%
34117 – Up 38.9%
The year-over-year look is a broader picture of how a market is doing compared to the month-over-month. It is always good to look at both when performing market studies. Visuals help too, so take a look at the graph below. You will see the year-over-year as well as the month-over-month for the Overall Naples Market. Posting a graph for each ZIP may be too much to absorb, but I am happy to send detailed reports of any ZIP code or neighborhood to anyone who asks. Just send me a message here and don't forget to sign up for my blog.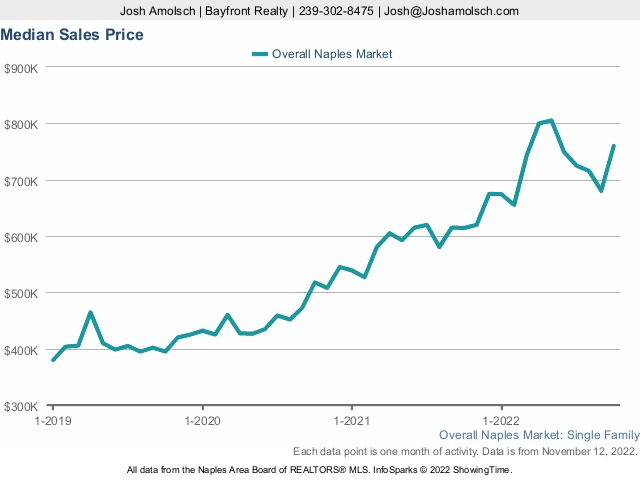 There is chatter of a housing crash in 2023. But with as many articles and interviews that you can find talking about a crash, there are an equal amount or more that dispel it. We may see a price correction, but not a 2008 level crash where the Naples area lost about 20% in values. According to Redfin, the Median Sales Price in the US fell 6.2% from the peak in May '22 to September, but only 1.5% from July to August and only .65% from August to September. Could the correction be nearing completion? Here in Naples, there are almost as many price reductions as there are new listings over the past 7 days with the average price reduction at 5%. So even with price reductions, the median still managed to climb in many areas.
The National Association of Realtors Chief Economist, Lawrence Yun, predicts a 7% drop in sales nationally in 2023 with a 1% increase in median price. So buying over the next year might not be a bad idea. Less competition means you shouldn't have to fight for that replacement home and that you should have more choices.
Here is one last set of stats for you to chew on.
Cash Purchases as a Percentage of Closed Transactions in October 2022 per ZIP
Coastal
34102 – 100%
34103 – 90%
34108 – 75%
34110 – 66%
Golden Gate Estates
34120 – 36%
34117 – 16%
Look at all that equity.
There is a lot to process here. Lots of info for a lot of different types of buyers. There are always deals to be had, but it takes teamwork to make the dream work. Regular communication with your Realtor will keep them engaged on your project and let them know that you haven't changed your mind. It's totally fine if you change your mind on buying or selling, but remember that there are a lot of moving parts to buying and selling real estate, and as the person buying or selling, you are steering the boat. A good Realtor will Captain that ship and I don't think I have to tell you that those two people MUST communicate.
So my advice to all who are reading this is:
1. Choose a trustworthy, honest Realtor with a successful record.
2. Stay in regular contact with that Realtor and tell them the whole story of your plan.
A good Realtor will listen to you and do right by you. If you question whether your Realtor has your best interest at heart, they may not. And if that is the case. Call me. I'll never let you down.
To buy or sell Naples real estate, contact me!